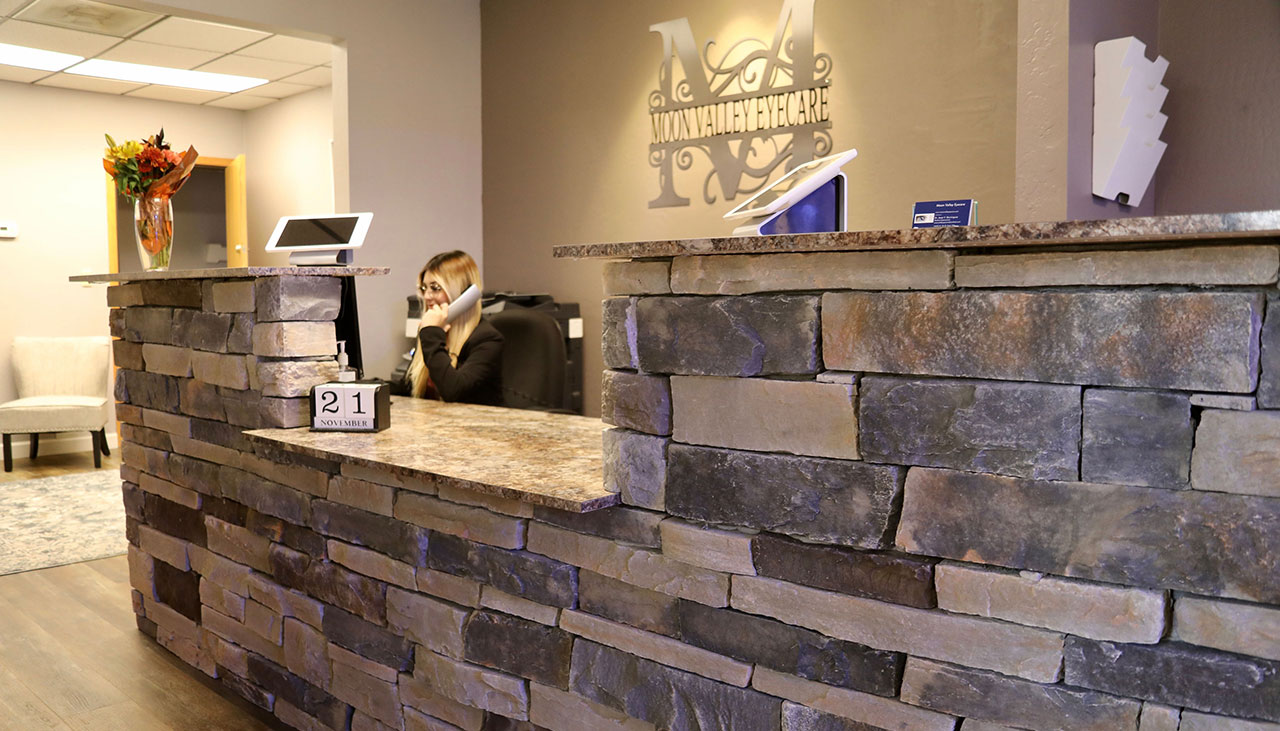 Moon Valley Eyecare is pleased to offer a wide range of optometric services, eye care products including eyeglasses, specialty eyewear, frames, and contact lenses. Our staff is willing to go above and beyond for our patients' needs.
About Our Team
Our team of eye care professionals is experienced and friendly. We're here to help all patients understand their benefits, schedule appointments, and fulfill their eye doctor's orders. Our practice can give you guidance in picking out your perfect pair of eyewear, and our friendly office staff is knowledgeable about billing and benefits coverage. Our entire staff at Moon Valley Eyecare is bilingual.
Learn more about our team here!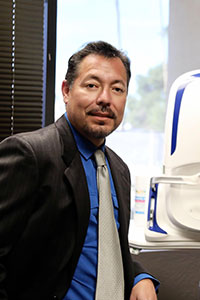 Dr. Jesse Dominguez
Medical Optometrist
Dr. Dominguez is a graduate of Southern California College of Optometry, Class of 2002. Prior to obtaining his Doctor of Optometry degree, he received his Bachelor degrees in Biology and Minor in Chemistry from Northern Arizona University. Dr. Dominguez trained at Barnett Dulaney Eye Center, IHS Winslow, and IHS Sacaton in Arizona. He has enjoyed private practices in Flagstaff, Yuma, and the Phoenix areas including his first office in Anthem. Dr. Dominguez is fluent in Spanish and welcomes each opportunity to get to know his patients and provide quality eyecare.
Born and raised in Flagstaff, Az he knew he would go back and set up practice in his native state. In 2002, he partnered with colleagues to build his first practice "All About Eyes". Eventually he bought Somerton Eyecare Center that provides bilingual medical eye care in a rural area. He currently practices in this office and specializes in Pediatrics, Geriatrics, Specialty Contacts, and Medical Eye Disease. Disease treatments include: Corneal disease, Diabetic eye disease, Glaucoma, Trauma, and Co-Management of surgical care with surgeons he trusts.
Dr. Dominguez is a strong advocate of private practice and serves as the formal regional leader in Arizona for the Professional Eyecare Associates of America. This organization provides resources to help individuals who practice Optometry independently or as a group. He also serves as an adjunct clinical professor at the Midwestern College of Optometry. He enjoys the ability to share what he has learned thus far in his profession with students who have the same passion for eyecare as he does. His hunger for learning and teaching is seen when he is with his patients. He treats every patient as if they were a member of his family and provides them with the best care possible.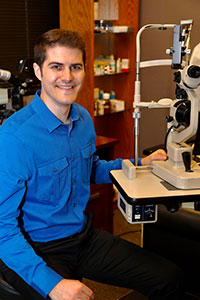 Dr. Jacob Bromley
Medical Optometrist
Dr. Jacob Bromley graduated with honors from the Arizona College of Optometry, Class of 2020. He is a member of the Beta Sigma Kappa National Honor Society. Prior to optometry school he received a bachelor's degree in Exercise Science at Brigham Young University. Dr. Bromley completed rotational training at Eye Tech Eyes in Peoria, the Phoenix VA hospital, Accent Eyes, and the Midwestern University Eye institute.
Dr. Bromley was born and raised in Danville, California. He grew up heavily involved in music and sports and enjoys playing and coaching soccer to this day. When he's not seeing patients, he enjoys spending time with his wife, two kids and dog.
Doctor Bromley believes in the difference that great vision can make in people's lives. He chose to pursue Optometry after an Optometrist transformed his own family members vision. He understands first hand that great eyesight can make one more confident, successful and happy. He is passionate about helping others to experience the transforming difference that great vision can make.
Jocelyn Ayala M.A.
Optician
Denise Dominguez
Owner/Manager
Luz Santiago
Office Manager
Yesenia Cruz
Patient Service Representative
Victoria Espinoza
Optician
Taylor Braun
Patient Service Representative
Tyler Steffen
Patient Service Representative